Eco Friendly Sticker Sheets
Update for 2021! In order to provide you with an even more environmentally friendly product we will now be finishing our labels with an LED UV varnish. The new varnish reduces our use of plastics, uses less energy than standard varnish, and enables the labels to be recycled with other paper and board products. Our adhesive is also RCA - (Recycling Compatible Adhesive)
With Environmental Sticker Sheets you get all of the designs you want on one convenient page. The possibilities are limitless. When designing a custom sticker sheet, be sure to maximize the use of space by including a range of sizes and shapes. This also gives your customer more flexibility when choosing how and where to use each sticker. Choose Environmental Sticker Sheets as your next consumer giveaway, or use them as an educational tool.
Now printed on our new recyclable Enviroliner made from 100% recycled paper. Digitally printed with our four colour printing process, each sheet is finished with LED UV varnish and die-cutting for a durable, polished look.
Price Chart
5R
5R
Product: Custom Sticker Sheets(CSS) Repositional adhesive
Imprint Options: Products referred to as "4 color process included" are based on the printing of ink colors: cyan, magenta, yellow and black.
Metallics and fluorescents are not available and we cannot guarantee precise PMS color matches.
Pricing includes 4 colour process print, set-up, and custom die. Bleed available.
Product Notes: Individually sheeted and stacked in bundles. Copy change: $65 (G). Must fit the same die to be a copy change. Minimum order for copy changes is 100 labels per version. Customers who want to switch from varnish to a lamination or from a standard gloss lamination to Matte lamination must add 10%.
Description: Paper laminated stickers with Removable adhesive. *Please note: all orders will be printed on Removable adhesive if not specified. Custom shape die included, however if your artwork contains too many small cavities it may require a more expensive die which will have to be quoted. Also we reserve the right to alter the die to ensure product quality. Designer Tip: Allow 1/8" spacing between shapes and 1/4" from edge.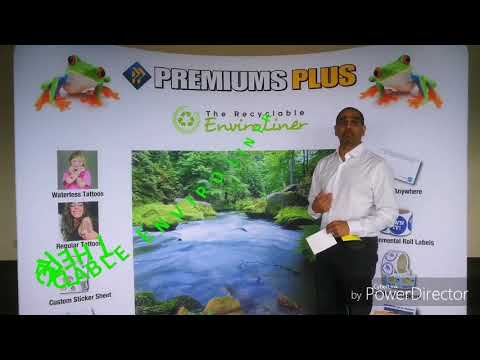 What is the Recyclable Enviroliner? - the world's first label liner that is made with 100% recyclable paper and is 100% recyclable. A zero waste label option is now available for your customers