Clothing Stickers
Update for 2021! In order to provide you with an even more environmentally friendly product we will now be finishing our labels with an LED UV varnish. The new varnish reduces our use of plastics, uses less energy than standard varnish, and enables the labels to be recycled with other paper and board products. Our adhesive is also RCA - (Recycling Compatible Adhesive)
Our Premiums-Plus Clothing Stickers have a fabric safe adhesive. Your participants can rest assured that these stickers are 100% fabric safe and can easily be removed from clothing without leaving any residue behind. Give your customers a clothing that have a recyclable liner made of 100% recycled paper. These stickers are great for events, corporate workshops, school functions and more.
Choose our LED UV varnished labels for a durable, polished look that captures your brand or messaging in the best light. This type of sticker also works well for games and corporate team builders where people are divided into set groups.
For on the go customization, choose our un-laminated version that participants can personalize with their name or other key information.
Price Chart
6R
6R
Product: Clothing Stickers (CLS) laminated stock / or for writable stickers add (-U) unlaminated stock
Imprint Options: Products referred to as "4 color process included" are based on the printing of ink colors: cyan, magenta, yellow and black.
Metallics and fluorescents are not available and we cannot guarantee precise PMS color matches.
Pricing includes 4 colour process print and set-up. Bleed available.
Product Notes: Finished on rolls. Rush Service Available:Yes (New Flat Rate available) Copy change: $65 (G). Minimum order for copy changes is 100 labels per version. Customers who want to switch from varnish to a lamination or from a standard gloss lamination to Matte lamination must add 10%.
Description: Paper sticker with fabric safe adhesive on rolls and perforation between each sticker.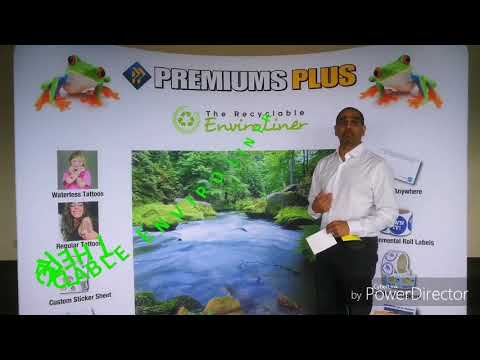 What is the Recyclable Enviroliner? - the world's first label liner that is made with 100% recyclable paper and is 100% recyclable. A zero waste label option is now available for your customers